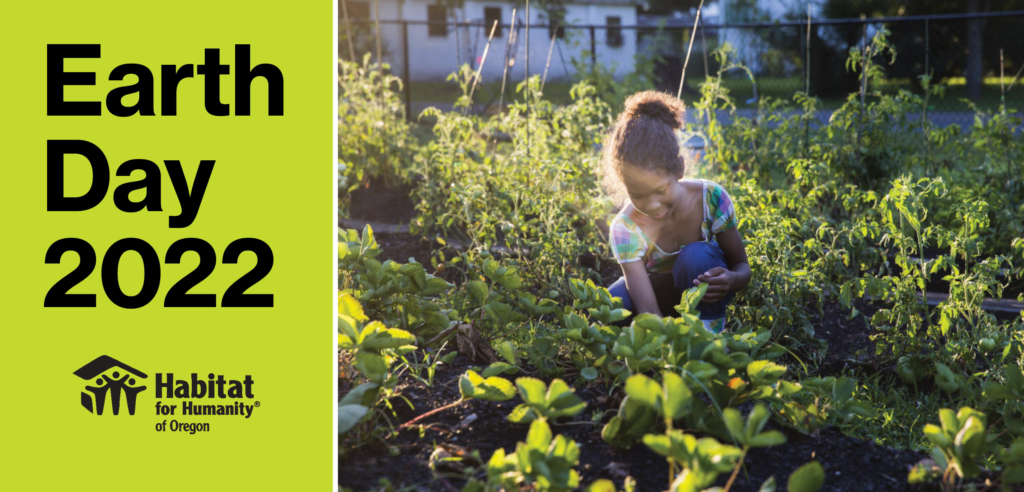 Happy Earth Day Week!
Since the world's first Earth Day in 1970, more than 1 billion individuals have mobilized for the future of the planet. As EarthDay.org notes:
"As an individual, you yield real power and influence as a consumer, a voter, and a member of a community that can unite for change … Don't underestimate your power. When your voice and your actions are united with thousands or millions of others around the world, we create a movement that is inclusive, impactful, and impossible to ignore."
Habitat for Humanity is well-known for its mission of bringing people together to build, preserve and foster affordable homeownership, as well as our commitment to advancing racial equity in housing, but you might be surprised to learn how the Habitat for Humanity network works to give back to the planet. We invite you to join us in making a difference this week (and beyond!).
Here are four ways to celebrate Earth Day with Habitat for Humanity:
1. Donate, shop and volunteer at the ReStore:
Habitat ReStores divert hundreds of tons from landfills each year, accepting hard-to-dispose-of items including new and used furniture, appliances and surplus building materials. In many cases, pickup service is provided for large items. Best of all, proceeds from the sale of these donated goods help families build a foundation for the future. To learn more about how to donate, shop or volunteer, please contact the ReStore location closest to you.
2. Donate your vehicle:
Since launching the national vehicle donation program, Cars for Homes, in 2005, Habitat has accepted more than 120,000 vehicles for reselling or recycling. Vehicle donations raised more than $30 million in just the last five years. Start your donation today.
3. Donate your returnables through Bottle Drop:
Several Habitat for Humanity organizations participate in BottleDrop's nonprofit program and will receive a 20-percent match from funds raised April 11-23. Please contact your local Habitat to see if they're participating.
4. Support sustainable building in your community:
Whether it's Bend-Redmond Habitat completing its first net-zero community, North Willamette Valley Habitat adding thoughtful landscaping to new homes, or Benton Habitat providing a critical home repair to help preserve existing housing stock, Habitat for Humanity affiliates partner with people in your community to build and improve places to call home every day. Contact a Habitat near you to learn more and get involved.