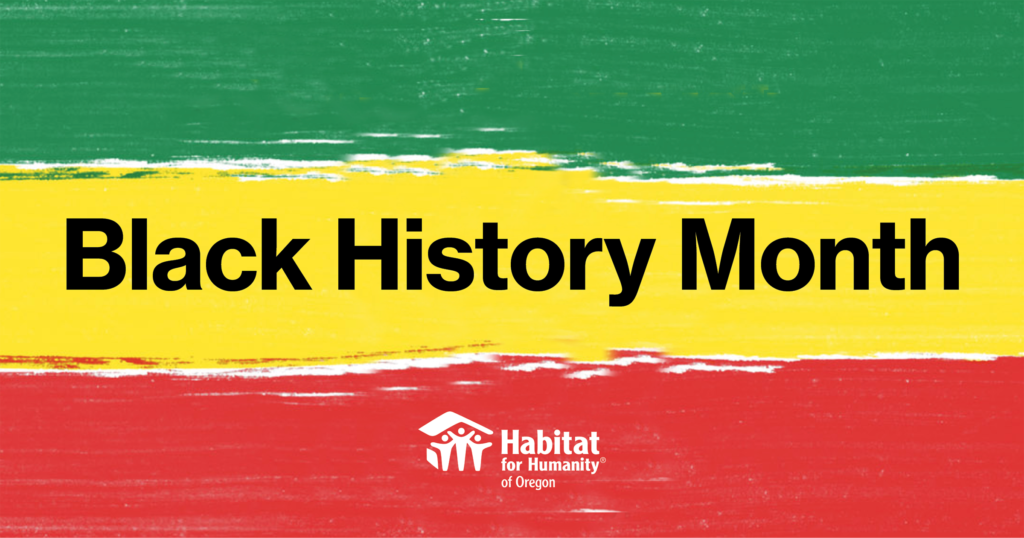 This February, as we commemorate Black History Month, we take this opportunity to reflect on our history — and use our voice to advocate and build a more equitable future for all.
Learn more about our advocacy efforts during Habitat at the Capitol on Feb. 15-17 
History
First, we must acknowledge the grim past so that we can work toward building a more equitable future in Oregon and beyond. We invite you to learn more about the history of race and housing, especially as it relates to Black homebuyers:
"Segregated By Design," narrated by Richard Rothstein (author of "The Color of Law"), examines the forgotten history of how our federal, state and local governments unconstitutionally segregated every major metropolitan area in America through law and policy.
As it's been noted in Willamette Week and based on the 2019 "Report on Addressing Barriers to Home Ownership for People of Color in Oregon," this history of discriminatory practices has resulted in Black Oregonians having the lowest rates of homeownership, with 32.2% of households owning a home. More than double that percentage of white households own a home: 65.1%.
Locally, Habitat Portland Region's blog series on Race and Housing outlines the metro's racist housing practices and the systems affecting Black homebuyers:
Building a more equitable and just future
The seeds of Habitat for Humanity began at Koinonia Farm in Georgia. Today, Habitat for Humanity of Oregon continues the spirit of Koinonia Farm by our reaffirming our commitment for equality and justice. We strive to build Dr. Martin Luther King, Jr.'s Beloved Community and eradicate barriers to housing so that everyone — no matter who they are — has a decent place to live.
Take action
In Oregon, 1 in 7 households pays half or more of their income on housing. And, we know that the disparate impact of the pandemic on communities of color will only widen the homeownership gap and perpetuate segregation of neighborhoods and resources. Unless we do something about it.
Homeownership must be made accessible to communities long disinvested by housing discrimination if we want to close our nation's stark racial wealth gap. By prioritizing housing production for low-income homeowners, we can prevent major losses in homeownership and expand access to new affordable homes for all. That's why Habitat for Humanity supporters from Oregon met with the offices of Sens. Merkley and Wyden and Reps. Blumenauer, Bonamici and Schrader during Habitat on the Hill to advocate for federal policies that build a more equitable future.
Join us in urging the U.S. Congress to act now for housing
Habitat Oregon is also advocating for critical legislation here at home. The Equity Investment Act (Senate Bill 1579) will create intergenerational wealth-building opportunities in Oregon's historically underserved communities by growing small businesses, providing critical workforce training and increasing homeownership access for Oregonians who stand to benefit the most.
"At Habitat for Humanity, we know firsthand that homeownership enables households in Oregon communities of all sizes to build intergenerational wealth," Executive Director Shannon Vilhauer told KOIN in reaction to the bill's first hearing on Feb. 8. "Due to systemic injustices like redlining and disparate access to credit, Black, Indigenous and Latinx households have confronted unfair obstacles to homeownership in the United States… The Equity Investment Act represents a sea change in our ability to respond to Oregon's diverse communities across the state with tangible solutions for a more stable, thriving Oregon."
Urge your Oregon legislators to support SB 1579: The Equity Investment Act
Additional resources